Most politicians, energy experts and consumers cite the abundant supply and low price of natural gas realized by the U.S. Shale Gas Revolution as reason to celebrate. However, natural gas producers, investors, and speculators who have bet on higher prices still continue to "sing the blues." Despite recent NYMEX natural gas futures prices hovering around $2.05/MMBtu and lower physical natural gas prices, I am very bullish on natural gas for a variety of reasons. In fact, I believe that three times the current price is a bargain for the benefits that the fuel provides. 
Recent events in the Chinese stock market and the steep decline in crude oil prices are wreaking havoc on global economies and reducing revenues to OPEC producing countries, respectively.  However, when things are not going well economically, it forces national and local governments to rethink their energy policies and the fuels they rely on to heat and cool homes and businesses, produce electricity, and transport people and goods. It is indeed a time when fuels traditionally used in a country are vulnerable to new thinking that puts a premium on human health and environmental issues.
Fortunately, abundant and inexpensive U.S. shale gas and LNG Exports from the U.S. to Europe, Asia and South America will provide more economic options to national and local governments that want to begin attacking chronic air pollution problems in their large urban centers. As natural gas takes center stage as a solution to chronic air pollution, demand for the fuel will increase and so will prices. Let me explain.
Energy Markets Don't Get It
First and foremost, I don't believe that physical natural gas or NYMEX natural gas futures markets are fully reflecting the environmental and health benefits of natural gas nor growing demand for the fuel. Prices have been historically much higher when the fuel was primarily used for heating, cooking and as an industrial feedstock.

 Source: U.S. Energy Information Administration
In future years, the U.S. Environmental Protection Agency's (EPA) Clean Power Plan will rely more on natural gas and gas-fired combustion turbines to integrate more wind and solar power into the electric grid, ensure electric reliability and to dampen price increases to electricity consumers from more expensive renewables.
Ensuring electric reliability is an issue that most advocates of renewables play down. However, when we "flip" the wall switch, we expect the lights to go on.  The variability of renewables, due to characteristic weather fluctuations, introduces uncertainty in power generation output on the scale of seconds, hours and days and can affect electric reliability. These uncertainties, affect up to 70% of daytime solar capacity due to passing clouds and 100% of wind capacity on calm days for individual generation assets. At present, renewable variability and electric reliability are handled almost exclusively in electricity markets by rapidly ramping conventional power plants (gas-fired combustion turbines and pumped storage hydropower) up or down on the basis of forecasts. Natural gas will play a major role here until utility-scale electric storage projects make up a significant part of a region's power portfolio.
While U.S. government energy officials are naturally "short" natural gas [hope that natural gas prices go lower], the future prices of gas should increase as demand grows and the health, environmental and electric reliability benefits are reflected in both natural gas and electricity markets. Besides, natural gas prices are already at the lower part of their historic range and further price declines may be unlikely.
Exporting the U.S. Shale Gas Revolution
The second reason I am bullish on natural gas is that U.S. liquefied natural gas (LNG) exports will finally begin to diversity global natural gas supplies and markets. True, only Cheniere Energy's Sabine Pass LNG Export terminal will participate in late February, early March, but the psychological impact on natural gas markets should not be underestimated. Besides, Dominion's Cove Point LNG Export terminal is currently being constructed and the Magnolia LNG project in Lake Charles, Louisiana will begin construction later this year.  Spreads between North American LNG and global landing prices are relatively good. And the desire of importing countries to diversify LNG supplies is still relevant even though many LNG cargo contracts are tied to oil prices, which are currently low and may decline further as Iranian barrels reenter the market.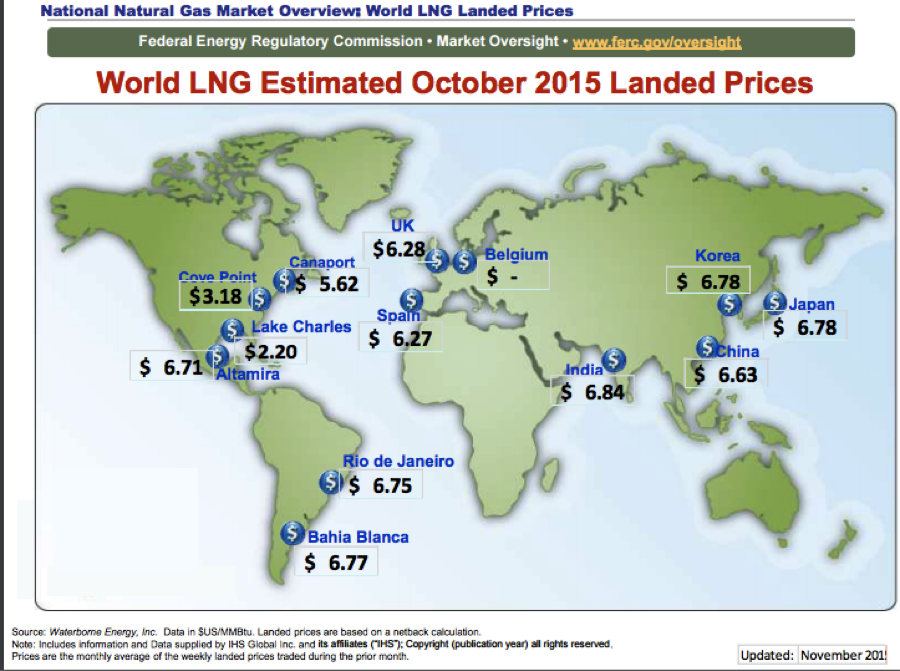 Never Mind Global Warming, our air is killing us…………
Natural gas can help solve serious air pollution problems in industrializing countries just as it has in the U.S. "Outdoor air pollution kills over 3.3 million people, mostly in cities, every year. That's more than HIV, malaria and influenza combined – yet the sparse coverage of official data means many cities are not even monitored," according to the World Health Organization.
If you are a "doubting Thomas," just compare the air quality indices in the majority of U.S. cities with their counterparts in Delhi, Beijing and Tehran. Large U.S. and western European cities have some of the cleanest air in the world, thanks to a combination of clean air regulations, rigorous enforcement, cleaner fuels and renewables.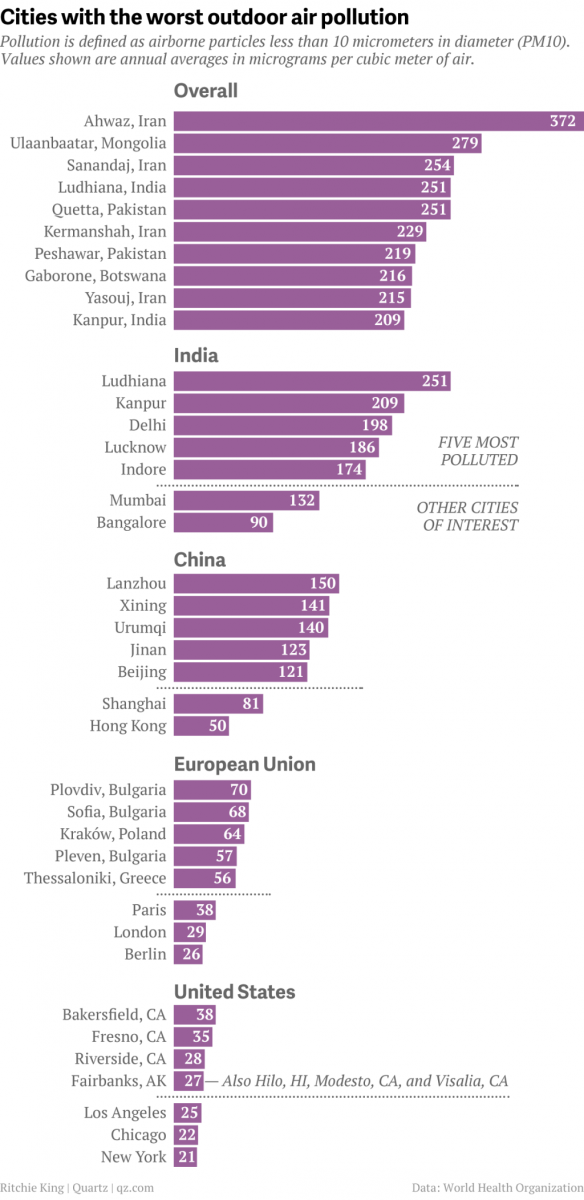 Note: The WHO guideline for a safe annual average is 10µg/m3.
Even if you think that Climate Change and global warming are not a threat, take a look at some of the pictures of large cities such as Delhi, Beijing, and Tehran. There is no denying that air pollution in many cities in the Middle East and Asia are serious threats to human health.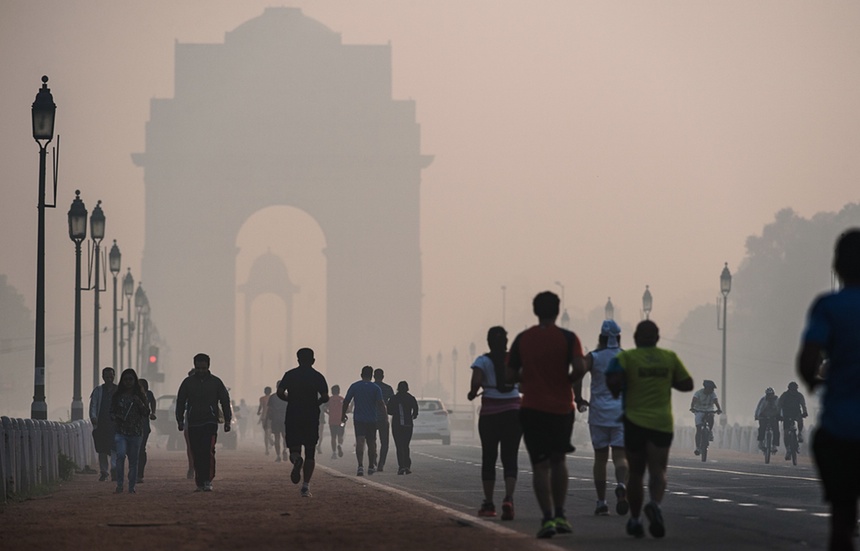 Joggers and walkers on a smoggy morning near the India Gate monument in Delhi. Photograph: Roberto Schmidt/AFP/Getty Images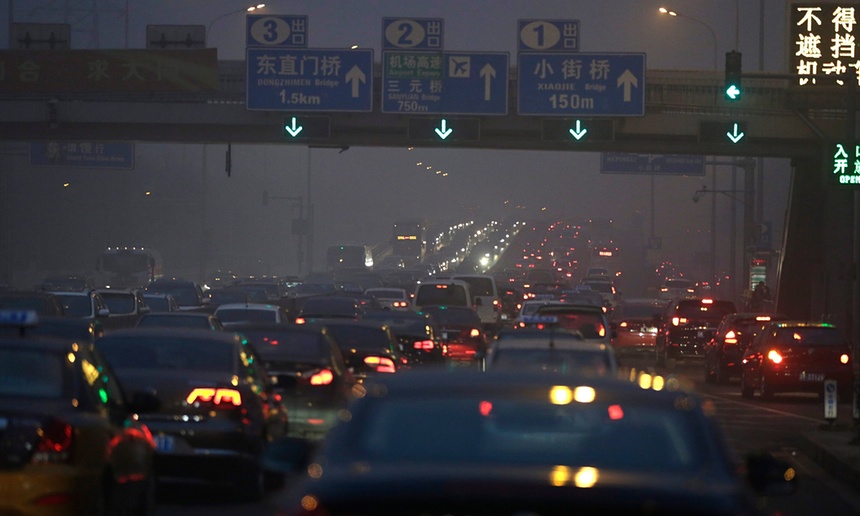 A busy expressway shrouded in smog in Beijing, China. Photograph: How Hwee Young/EPA 
Better air quality can be attained in these cities if they burn less coal, charcoal and oil and substitute more natural gas and renewables for power, heating, cooling and transportation.  
The recent air quality gains in the U.S. certainly did not happen by government regulations or renewables alone. It took a combination of technology and engineering in the natural gas and power sectors to economically extract shale gas and design more efficient solar and wind projects. The U.S. was also blessed with 305,000 miles of natural gas pipelines and 450,000 miles of high-voltage transmission lines to deliver natural gas and power from remote areas to urban markets. Without these open access energy transport systems, there would have been a lot less progress. Over time, this recipe for success is replicable globally and will support moderately higher natural gas prices, since it delivers those health and environmental benefits people are looking for, including  integrating renewables into the electric grid and ensuring reliability.
Higher Natural Gas Growth on the Horizon
I believe that many industrializing countries and some European countries will be rethinking their electric power, heating and cooling, and transportation policies,  especially for large cities as the U.S. natural gas exports begin. Fortunately, there are some great examples of how natural gas can solve some of the severe air pollution problems in the cities mentioned above and others.
New York City's War Against Soot
When I think of large cities and air pollution challenges, I naturally think of New York City and its 8,491,079 people. Unfortunately, New York City is already at its 2020 population forecast and I suspect that many large industrializing cities are in the same situation or higher. New York City began to reduce air pollution during Mayor Michael Bloomberg's administration and continues to do so.
In New York's case, large buildings that burned no. 6 and 4 fuel oils for heating and hot water created more soot (particulate matter) than all of the City's cars and trucks combined. The U.S. EPA estimated that air pollution in New York City caused more than 3,000 deaths annually from lung and heart disease. To address these issues, Mayor Bloomberg's administration targeted large commercial and residential buildings in New York City and did several things:
Banned the use of the two dirtiest fuels- no. 6 heating oil by the end of 2015 and no. 4 heating oil by the end of 2029;
Required building owners who burned no. 4 to convert to low sulfur no. 2 heating oil, natural gas, ultra low sulfur diesel (ULSD) or to use steam service where possible; and
Provided $100 million in financing to assist building owners that burned the two dirtiest heating oils to convert to cleaner heating fuels mentioned above.
Roughly 10,400 buildings will have to switch from heavy oil to cleaner fuels by 2030. The regulations, issued in 2011, prohibit the use no. 6 and 4 fuel oil in heat and hot water boilers and burners.  Many large buildings have already switched, or are planning to switch. Large residential buildings in the Consolidated Edison Company's (Con Ed) service area have and are converting to natural gas. Other large buildings in parts of Manhattan where steam service is offered are converting to steam and using it as a heating and cooling fuel.
New York's Steam Service System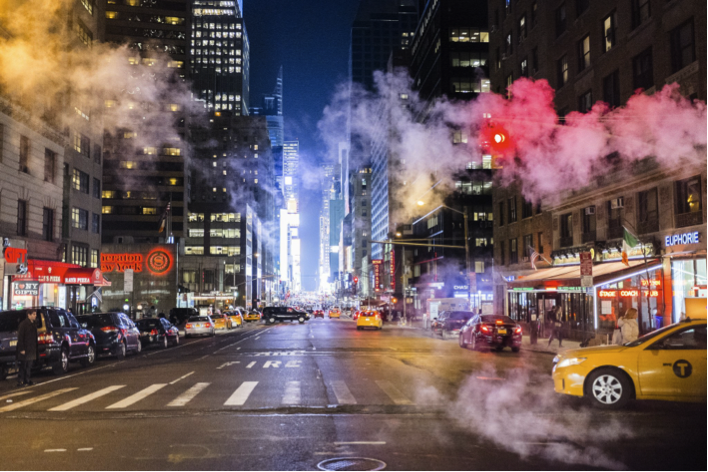 Source: Billy Ward, Flickr
I grew up in New York City and was always amazed to see steam plumes coming from manhole covers on the streets year round and especially in winter. I also wondered why some of New York's largest buildings like the Empire State Building and Chrysler Building didn't have chimneys or black smoke coming from them during the winter. The answer was that they never used heating oil to begin with. These buildings use steam service, which is particularly attractive because it is low cost, eliminates the need for on-site boilers, and frees up the space for other uses. 
Con Ed has provided steam service to 1,700 customers in Manhattan for over 130 years.  Today, Con Ed's steam is serving more than 3 million New Yorkers.  Steam services provide customers with heat, hot water, air conditioning, humidification, dry cleaning and other benefits. Many of the City's largest buildings, including the United Nations, Radio City Music Hall, Grand Central Station, NYU, hospitals and the Waldorf Astoria use steam for heating and humidification, and for cooling using absorption chillers.
Con Ed's steam system generates steam at four central plants using natural gas and cogeneration, and has 105 miles of steam mains and service pipes. Large cities such as Delhi, Beijing and Tehran should seriously consider building steam systems powered by natural gas and cogeneration. Sourcing the gas should no longer be a problem given the abundance of LNG and natural gas from the Middle East, Russia, Australia and soon the U.S. Also natural gas from oil wells that is flared in the Middle East could be processed and transported to steam systems via pipeline. See a short video about New York City's steam system.
Natural Gas as a Global Transportation Fuel
In many global cities, automobiles and trucks in combination with burning dirty fuel for heating, cooking and power production create serious air pollution problems, especially during certain weather conditions. High air pollution in Tehran last month forced Iranian authorities to close all schools and kindergartens for two days, saying the pollution had reached dangerous levels. Many cities in China have also been recently dealing with an air-quality crisis. Last month, Beijing officials ordered limits on cars, factories and construction sites during a red alert for smog. Authorities in Delhi are also trying to limit cars and trucks on the road and encouraging people to use public transportation. These measures have had some limited success, but it's not a long-term solution. 
Natural gas vehicles can mitigate and solve some of these chronic air pollution problems. The transportation sector has started to look favorably on natural gas and will contribute to increased natural gas demand in the years ahead. A recent report by Navigant estimates that total sales of natural gas vehicles are expected to exceed 35 million from 2015 to 2025. Manufacturers like General Electric, Caterpillar, Weichai Westport, and Cummins believe that the market for natural gas engines in Asia, the Middle East and Africa will be strong. This should allow cities to go ahead and gasify their public transportation systems, taxi fleets and government vehicles using compressed natural gas (CNG).
Tesla Motors and Porsche will compete with each other in the high-end electric sport car market according to a recent report. At this time, these cars are not within the budgets of most people, but advances in battery technology could bring costs down in coming years. In the interim, the automobile industry can continue to expand CNG powered car and small truck offerings as an alternative to gasoline and diesel powered vehicles until electric vehicles become more affordable. While this would require the expansion of existing CNG service stations, it may be worth the cost.
In addition, large Class I U.S. railroads that carry freight are starting to turn to dual-fuel diesel and LNG locomotives to reduce costs and meet more stringent air quality requirements. GE Transportation has introduced its first dual-fuel locomotive retrofit kit that is expected to reduce locomotive fuel costs by up to 50%. These GE kits offer 100% diesel flexibility with up to 80% natural gas substitution. The latter fuel can double locomotive haul distances and meet all emission regulations.
LNG is also emerging as a fuel of choice for vessels and ferries. The advanced Wärtsilä LNG-fueled engines powering the M/S Viking Grace make it the "greenest and quietest ferry in the world," according to Viking Cruise Lines. The 218-meter long, 57,600-ton vessel completed its maiden voyage.
Conclusion
The U.S. should serve as an excellent reference case and example for industrializing countries in the Middle East, Asia and Latin America, because it demonstrates the environmental and health benefits from switching from dirtier power, heating, cooking, and transportation fuels to cleaner natural gas. While this is not easy to replicate overnight, the success in the U.S. and need to solve chronic air pollution problems in industrializing countries like India, China and Iran will increase natural gas demand and support moderate increases in the price of the fuel.  
#c0c0c0;">Disclosure: I wrote this article myself and it expresses my own opinions. I am not receiving compensation for it and have no positions in natural gas equities, physical natural gas or derivatives. Also I have no business relationship with any company or project that is mentioned in this article.